Doses and time of potassium application on corn agronomic performance cultivated in a 'Cerrado' area at Piaui State, Brazil
Fabiano André Petter

Fabricio Ribeiro Andrade

Alan Mario Zuffo

Marinete Martins de Sousa Monteiro

Leandro Pereira Pacheco

Fernandes Antônio de Almeida
Keywords:
Zea mays L., management, potassium fertilization
Abstract
Since the 'Cerrado' area of Piaui State, Brazil is a relatively new agricultural frontier, there is lack of information regarding the handling of potassium fertilization, since no information about the better fertilization techniques for this area was provided by the federal research corporations. Thus, the aim of this study was to evaluate the effect of dose and time of application of K2O in corn grown in a 'Cerrado' area at the Paui state. The experiment was conducted in a yellow dystrophic oxisol with a completely randomized block design, with four repetitions in a (4x4)+1 factorial. The treatments consisted of combinations of four potassium levels: 30, 60, 90 and 120 kg ,K2O ha-1 + additional control (zero kg ha-1) applied in four seasons : 100% at sowing; 100% at 30 days after sowing (DAS); 50% at sowing and 50% 30 DAS; 50% 20 DAS and 50% at 40 DAS. Only the height, stem diameter and agronomic efficiency of the K use were influenced by the K+ time of application, especially with the application of 50% at sowing and 50% at 30 DAS. Except for the relative chlorophyll content and ear length, all other variables were influenced by K2O doses. The application of K2O resulted in greater increases of other evaluatedvariables, mainly for the yield obtained when the dose of 53 kg K2O ha-1 was used.
Downloads
Download data is not yet available.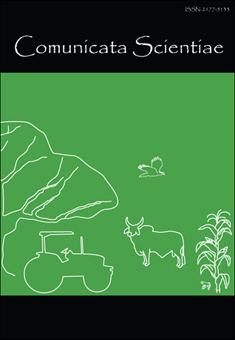 How to Cite
Petter, F. A., Andrade, F. R., Zuffo, A. M., Monteiro, M. M. de S., Pacheco, L. P., & Almeida, F. A. de. (2016). Doses and time of potassium application on corn agronomic performance cultivated in a 'Cerrado' area at Piaui State, Brazil. Comunicata Scientiae, 7(3), 372-382. https://doi.org/10.14295/cs.v7i3.1218
Copyright (c) 2016 Fabiano André Petter, Fabricio Ribeiro Andrade, ALAN MARIO ZUFFO, Marinete Martins de Sousa Monteiro, Leandro Pereira Pacheco, Fernandes Antônio de Almeida
This work is licensed under a Creative Commons Attribution-NonCommercial 4.0 International License.
All articles published may be reproduced or utilized in any form or by any means whether specified Comunicata Scientiae, author(s), volume, pages and year. The authors are responsible for all the statements and concepts contained in the article.