The Comunicata Scientiae journal is published in yearly volumes of four issues (from 2012) edited by Campus"Profa Cinobelina Elvas" of Federal University of Piauí (Brazil) in March, June, September and December. It publishes original articles, scientific notes and review articles (when invited by the editorial board), which present significant importance for Agrarian and Environmental Sciences in Portuguese and, preferentially, in English.
Comunicata Scientiae is indexed in: SCOPUS (Elsevier), CAB Abstracts, AGRIS/FAO, Agricola (USDA), Chemical Abstracts Services, Genamics, Agora/FAO, EBSCO-Academic Search, Index Copernicus International,Chinese Eletronic Periodical Services (AIRITI Inc.), Eletronic Journals Library (The Elektronische Zeitschriftenbibliothek EZB), ProQuest CSA, BASE (Bielefeld Academic Search Engine),Ulrich's International Periodicals Directory, Gale Cengage Group, DIALNET, Text Journals in Chemistry (ABC Chemistry), Agrobase - Brazilian Agricultural Base, Directory of Open Access Journals, Sistema Regional de Información en Línea para Revistas Científicas de América Latina, el Caribe, España y Portugal (Latindex), Electronic Journals (e-journals) and Open J-gate.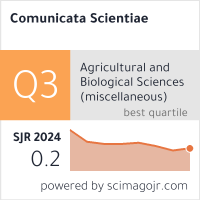 Announcements
No announcements have been published.
Vol 9, No 4 (2018)
Table of Contents
Original Article
| | | |
| --- | --- | --- |
| | Hermogenes Almeida Santana Junior, Mario Alves Barbosa Júnior, Elizângela Oliveira Cardoso-Santana, Antônio Hosmylton Carvalho Ferreira, Alex Lopes Silva, George Abreu Filho | 540-545 |
| | | |
| --- | --- | --- |
| | Stela Antas Urbano, Marcelo Andrade Ferreira, Paulo Sérgio Azevedo, Gustavo Araújo Vasconcelos, Hilson Barreto Santos Filho, Daniel Barros Cardoso | 456-555 |
| | | |
| --- | --- | --- |
| | Pedro Henrique Watanabe, Tatianne Alexandre Azevedo, Margarita Augusto do Nascimento Silva, Nathalia Martins Oliveira, Thalles Ribeiro Gomes, Tiago Silva Andrade, José Antônio Delfino Barbosa Filho | 556-564 |
| | | |
| --- | --- | --- |
| | Ana Alice Salmito Noleto de Campos Ferreira, Leilane Rocha Barros Dourado, Daniel Biagiotti, Natanael Pereira da Silva Santos, Daphinne Cardoso Nagib Nascimento, Katiene Regia Silva Sousa | 565-574 |
| | | |
| --- | --- | --- |
| | Suely Silva Santos, Stella Yasmin Lima Nobushige, Arthur Serejo Neves Ribeiro, Francisco das Chagas Vieira Santos, Reginaldo José Donatelli, Guilherme José Bolzani de Campos Ferreira, Anderson Guzzi | 575-589 |
| | | |
| --- | --- | --- |
| | Michelle Conceição Vasconcelos, Joel Conceição Costa, Renata Silva-Mann, Andréa dos Santos Oliveira, Claudio das Neves Vieira Bárbara, Maria Laene Moreira de Carvalho | 590-595 |
| | | |
| --- | --- | --- |
| | Francisca Sonally Oliveira, Lindomar Maria da Silveira, Salvador Barros Torres, Ferdinando Monteiro Carvalho Dias da Costa, Maclayver Christiano Caetano Nunes, José Sisenando de Senna e Silva Neto | 596-602 |
| | | |
| --- | --- | --- |
| | Larissa de Oliveira Fontes, Alexandre Bosco de Oliveira, Eneas Gomes Filho, Maria de Fátima de Queiroz Lopes, José Hamilton da Costa Filho, Ítalo Nunes Silva | 603-612 |
| | | |
| --- | --- | --- |
| | Cristiano Hossel, Américo Wagner Júnior, Jessica Scarlet Alves de Oliveira Hossel, Kamila Cristina Fabiane, Adriana Dallago | 613-620 |
| | | |
| --- | --- | --- |
| | Welington Secundino, Rodrigo Sobreira Alexandre, Edilson Romais Schmildt, Omar Schmildt, Kristhiano Chagas, Helder Ivo Pandolf Marques | 621-628 |
| | | |
| --- | --- | --- |
| | Alberto Cargnelutti Filho, Ismael Mario Márcio Neu, Gustavo Oliveira dos Santos, Giovani Facco, Cleiton Antonio Wartha, Jéssica Andiara Kleinpaul | 629-636 |
| | | |
| --- | --- | --- |
| | Fernanda Cassiane Caratti, Fabiane Pinto Lamego, Mario Antonio Bianchi, Humberto Farias, Bruno Moncks da Silva, Joanei Cechin | 637-648 |
| | | |
| --- | --- | --- |
| | Felipe Guilherme Ferreira Fornazza, Jamil Constantin, Fellipe Goulart Machado, Rubem Silvério de Oliveira Jr., Gustavo Delabio da Silva, Fabiano Aparecido Rios | 649-658 |
| | | |
| --- | --- | --- |
| | Francisco Figueiredo de Alexandria Júnior, Everton JohnCamelo Alves, Silvanete Severino da Silva, José Dantas Neto, Carlos Alberto Vieira de Azevedo | 659-667 |
| | | |
| --- | --- | --- |
| | Francisco Vanies da Silva Sá, Miguel Ferreira Neto, Yuri Bezerra de Lima, Emanoela Pereira de Paiva, Rômulo Costa Prata, Claudivan Feitosa Lacerda, Marcos Eric Baborsa Brito | 668-679 |
| | | |
| --- | --- | --- |
| | Marilia Barcelos Souza Lopes, Helio Bandeira Barros, Aloísio Freitas Chagas Júnior, Manoel Mota dos Santos, Niléia Cristina da Silva, Rodrigo Ribeiro Fidelis | 680-686 |
| | | |
| --- | --- | --- |
| | Maria Márcia Pereira Sartori, Jackson da Silva, Mauricio Dutra Zanotto | 687-694 |
| | | |
| --- | --- | --- |
| | Ana Cecília Poloni Rybka, Aline Camarão Telles Biasoto Marques, Ana Júlia Araújo, Rita de Cassia Mirela Resende Nassur | 695-699 |
| | | |
| --- | --- | --- |
| | Ekaterina Skuratovskaya, Ekaterina Skuratovskaya, Andrey Zav'yalov, Irina Rudneva | 700-709 |
| | | |
| --- | --- | --- |
| | Kecia Mayara de Araújo Galvão, Fábio Sanchez da Cunha, Francine Hiromi Ishikawa, Antonio Elton da Silva Costa, Alexandre Sandri Capucho | 710-717 |
| | | |
| --- | --- | --- |
| | Geovani Soares de Lima, Adaan Sudario Dias, Hans Raj Gheyi, Lauriane Almeida dos Anjos Soares, Reginaldo Gomes Nobre, Francisco de Assis França Dantas da Silva | 718-728 |
| | | |
| --- | --- | --- |
| | Carlos Eduardo Avelino Cabral, Luciano da Silva Cabral, Edna Maria Bonfim-Silva, Kassio dos Santos Carvalho, Joadil Gonçalves de Abreu, Carla Heloisa Avelino Cabral | 729-736 |
| | | |
| --- | --- | --- |
| | Joice Fernanda Lübke Bonow, Fabiane Pinto Lamego, André Andres, Eduardo Nogueira | 737-747 |
| | | |
| --- | --- | --- |
| | Anilde da Graça Sousa Maciel, Roseane Cristina Predes Trindade, Edmilson Santos Silva, Márcia Daniela dos Santos | 748-753 |
| | | |
| --- | --- | --- |
| | Marciane Danniela Fleck, Ervandil Corrêa Costa | 754-764 |